Esther « The Wonder Pig » pourrait bien changer définitivement votre regard sur les cochons. Avec plus de 50.000 fans en à peine six semaines, Esther a créé le buzz sur Facebook, et chaque instant de son quotidien est accueilli avec sourire et enthousiasme par un nombre croissant d'internautes. Attention, Esther « The Wonder Pig » pourrait bien changer définitivement votre regard sur les cochons.

© Bruno Marchese. Illustration ludique pour coloriage, sur base d'Esther
Qui n'a jamais entendu dire, au moins une fois, que les cochons étaient plus intelligents que les chiens? Cette rumeur un peu étrange, absurde diront certains, est pourtant confirmée par de nombreuses expériences scientifiques qui n'ont rien d'une plaisanterie. Leur intelligence dépasserait celle des chiens, des chats et des dauphins. Ils sont également curieux, espiègles et très sociaux.
Et ce ne sont certainement pas Steve Jenkins et Derek Walter qui vont dire le contraire, ce couple de Canadiens partage en effet depuis bientôt deux ans son quotidien avec deux chiens, deux chats et… une truie!

En adoptant Esther, ils pensaient adopter un cochon nain, mais se sont retrouvés avec un cochon de 170 kg, et s'ils ont dû « sécuriser » leur maison, ce n'est pas parce qu'Esther renversait les meubles ou salissait, mais parce que, curieuse et intelligente, elle a vite su ouvrir les portes, le frigo et les armoires. Elle adore s'amuser et les câlins, et c'est volontiers que chiens, truie et humains partagent les jeux les plus divers ou se pelotonnent ensemble.

Alors, pourquoi le sens commun présente-t-il les cochons comme étant des animaux sales et sans intérêt?
Simplement parce que si nous les considérions pour ce qu'ils sont réellement, nous ne pourrions pas les exploiter comme nous le faisons aujourd'hui. Comment en effet forcer à l'immobilisme des animaux si actifs, sinon en se persuadant qu'ils ne le sont pas? Comment justifier de les entasser, eux si propres et joueurs, dans des lieux sales et terriblement ennuyeux, sinon en les qualifiant de stupides? Ou encore de les castrer, de leur couper la queue et les dents à vif, ou de les faire avancer à coup de bâton électrique? Comment accepter de garder 95% des 25 millions de cochons élevés annuellement en France dans des élevages intensifs, sur caillebotis et sans accès à l'extérieur?
Si nous reconnaissions les cochons comme des êtres intelligents, espiègles et affectueux, nous ne pourrions plus continuer de telles pratiques ; nous ne pourrions même plus les manger.

Esther est née avec une faible constitution et, au lieu d'avoir été tuée dans l'élevage comme c'est l'usage, le crâne fracassé contre un mur, elle a eu la chance incroyable d'être vendue comme « cochon nain » à des personnes qui ont su l'aimer comme elle les aime en retour. Et qui sont devenus veganes en réalisant que des millions d'Esther sont condamnées à une vie et une mort de souffrances pour satisfaire un simple désir de bacon ou de jambon.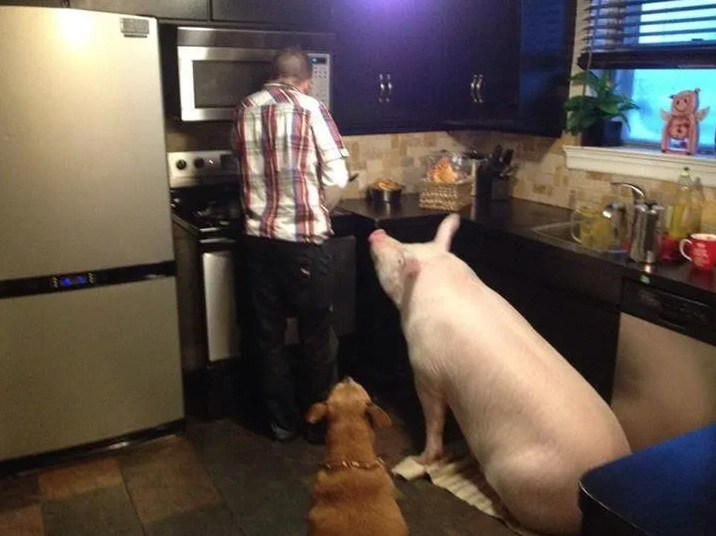 Pour des raisons pratiques, il est évident qu'il n'est pas facile d'adopter un cochon. Mais rien ne nous empêche d'en sauver tout simplement en arrêtant de les consommer.
Vous pouvez « liker » la page dédiée à Esther Sur Facebook.

@Esther the Wonder Pig

Un article de Clèm Guyard, diplômée en anthropologie et didactique des langues, engagée auprès de L214, association pour l'éthique animale