Bienvenue dans Night Gallery, c'est ici que je vous fais découvrir mes activités les plus artistiques. Ces projets qui, au delà de leur esthétique relative, proposent le temps d'un instant une idée, une position et/ou une réflexion.
Cette page parlera surtout aux plus curieux et je l'espère aux représentants de galeries d'Art.
Mes créations sont déposées*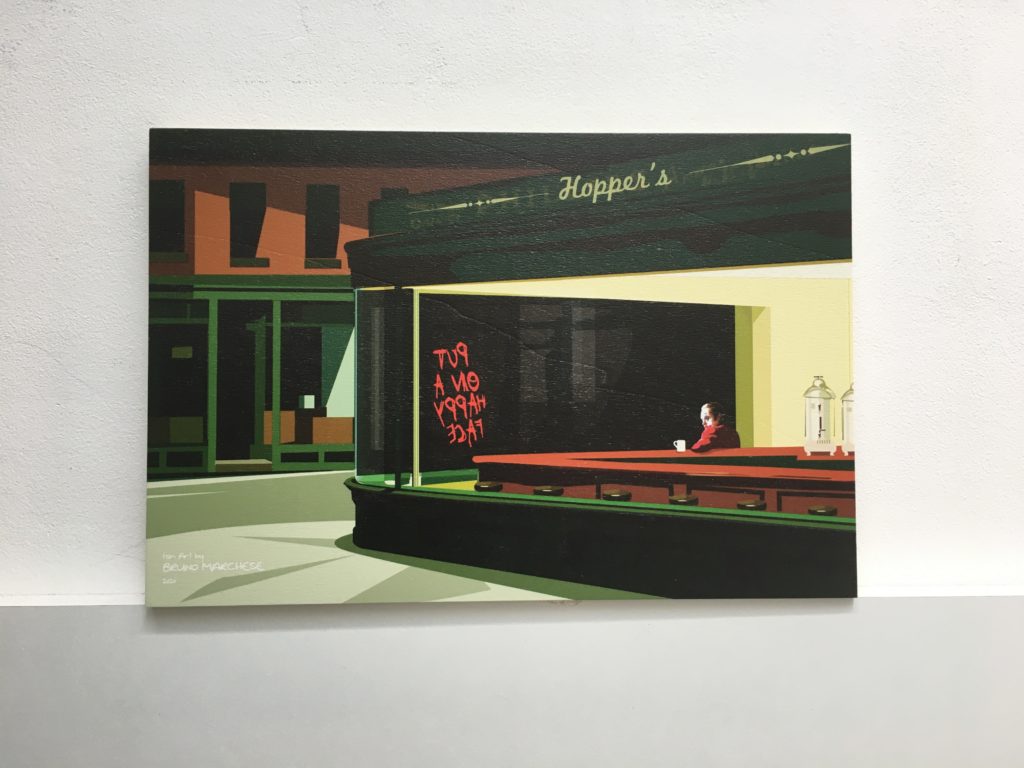 Qui n'a jamais croisé Nighthawks: The Search For The Diner, célèbre tableau d'Edward Hopper qui, comme le dit cet article, met en lumière la solitude et l'aliénation des mégapoles modernes, ce qui est valable pour tout l'ensemble de ses œuvres. C'est dans cette idée que j'ai voulu créer mon interprétation, adaptée aux gouts du jour avec au comptoir seul, Joaquin Phoenix alias Joker, l'homme méprisé par la société (film sorti en 2019).
« Hopper's », peinture numérique, impression directe sur bois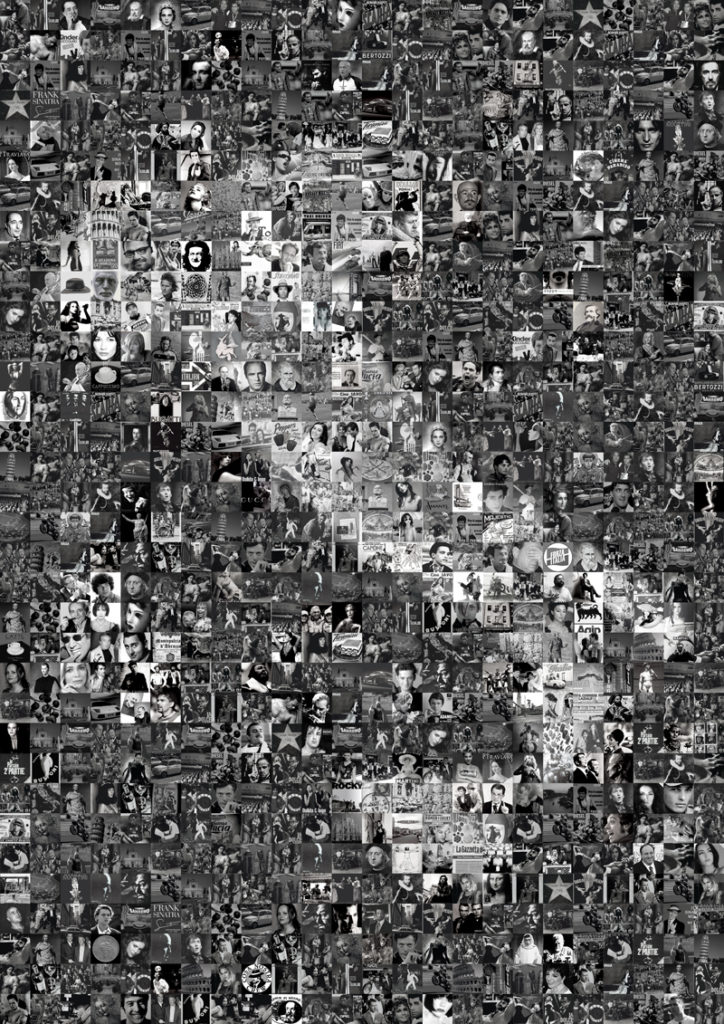 Les photomosaïques, ces 'images composées d'images' font toujours leur effet, que ce soit pour un commerce (comme ici) pour mettre sa spécialité en avant, ou pour offrir un cadeau original.
« Forza Italia », mosaïque réalisée sur Adobe Photoshop
J'ai réalisé ce montage photo ensuite je me suis dit qu'il manquait un truc…, c'est en cherchant en ligne que je suis tombé sur la légende qui allait s'accorder parfaitement à mon illustration, un joli fruit du hasard.
Marilyn, composition réalisée sur Adobe Photoshop
Voici une autre photomosaïque, réalisée pour une fan des 9ties, ce fut un grand plaisir pour moi de le réaliser mais aussi un grand moment de nostalgie…
Imprimée sur toile pour décorer la salle lors d'un anniversaire.
9ties, mosaïque réalisée sur Adobe Photoshop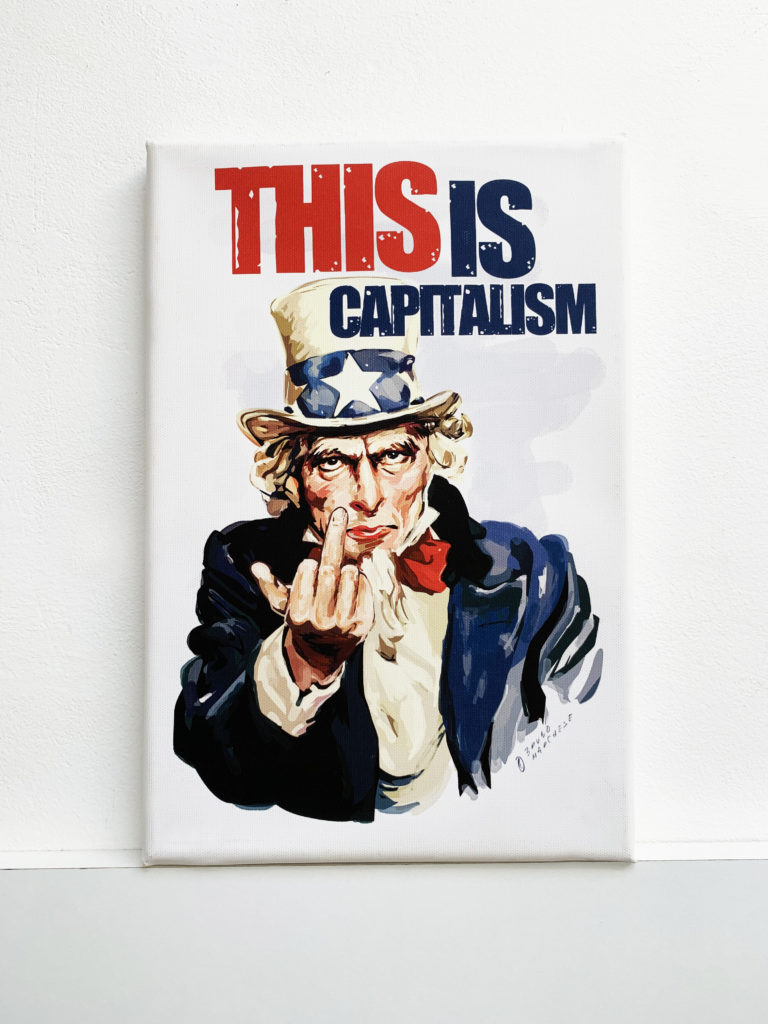 Oncle Sam a été utilisé pour la première fois dans une bande dessinée politique dessinée par Thomas Nast. Ensuite il a été utilisé à plusieurs reprises pour recruter dans l'armée américaine.
Pendant la Première Guerre mondiale, une affiche très célèbre pour le recrutement met en scène oncle Sam, pointant son doigt en direction du lecteur avec les mots « I want you for U.S. Army ».
Créée par James Montgomery Flagg en 1917 sur la base d'une affiche britannique de 1914, cette affiche a été réutilisée pendant la Seconde Guerre mondiale.
Plus de 4 millions de copies de l'affiche ont été imprimées entre 1917 et 1918. Depuis, elle a été très largement parodiée avec de nombreuses variations du slogan original.

C'est tout naturellement que j'ai imaginé cette version, plus ou moins caricaturale… selon le point de vue de chacun.

« Capitalism », peinture numérique réalisée sur Adobe Illustrator et Photoshop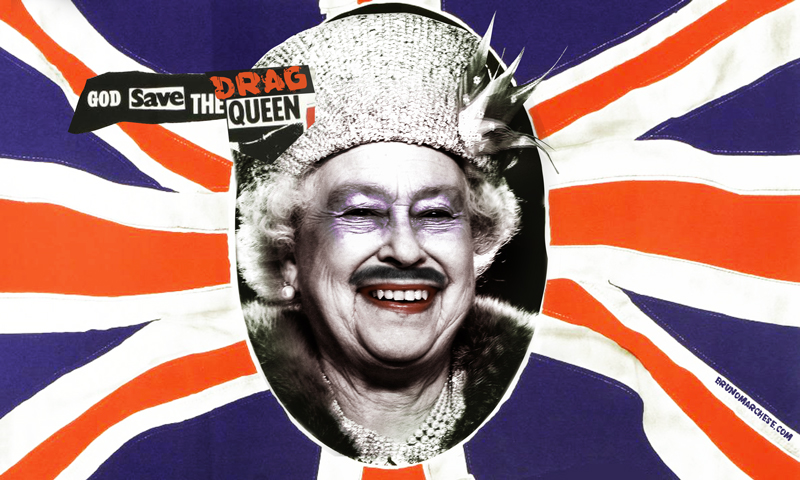 Une parodie* de plus… cette fois sur une habituée… la Queen Elizabeth II. C'est une compo que j'ai faite sur un coin de table mais j'ai quand même trouvé qu'elle pouvait avoir sa place ici.

*Imitation burlesque de quelque chose ou quelqu'un de respectable.
« God Save the Drag Queen », composition réalisée sur Adobe Photoshop
Ceci s'est passé à Mons, ville de tous les possibles
« Pigeon », composition réalisée sur Adobe Photoshop, impression sur Alu
* Toutes mes créations sont déposées et soumises aux droits d'auteur, sauf si la permission du détenteur du droit d'auteur a été obtenue ou la reproduction relève du droit de citation ou des dispositions des droits de reproduction.